Transportation of your vehicle
We also offer vehicle pickup & delivery. This service is offered to save you time and the hassle of needing to find transportation to and from our shop. One of our trained drivers will pickup and deliver your vehicle using either our flatbed tow truck, or our enclosed car trailer depending on the vehicle that has been repaired.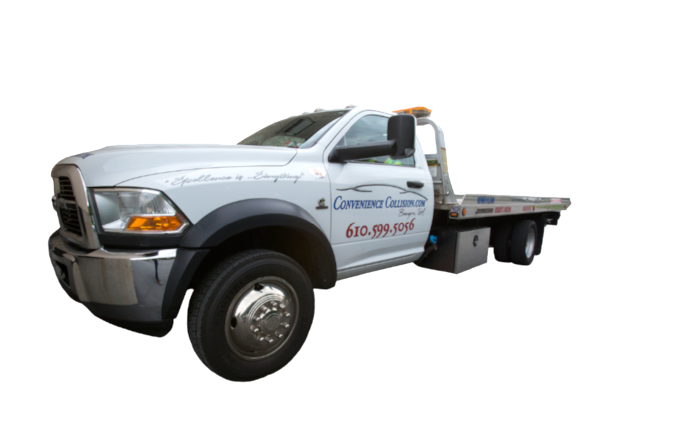 Towing & Transport for Your Convenience
Convenience Collision offers towing & transport services for both vehicle pickup and vehicle delivery. We have full time drivers on staff who are fully trained and DOT compliant. Cost of vehicle pickup varies depending on your insurance plan, however vehicle delivery is always FREE within 80 miles!
Vehicles are transported by using either our flatbed truck, or an enclosed car trailer for collectible, antique, or vintage cars. Vehicles being towed are fully insured up one million dollars of damage.
In addition to our towing & transport services we also offer rental vehicles for our customers. Rental vehicles can be picked up from Convenience Collision in Bangor Pennsylvania or delivered to your door step if requested. Stay in style while your car is in the shop with one of our luxury BMW rental vehicles.